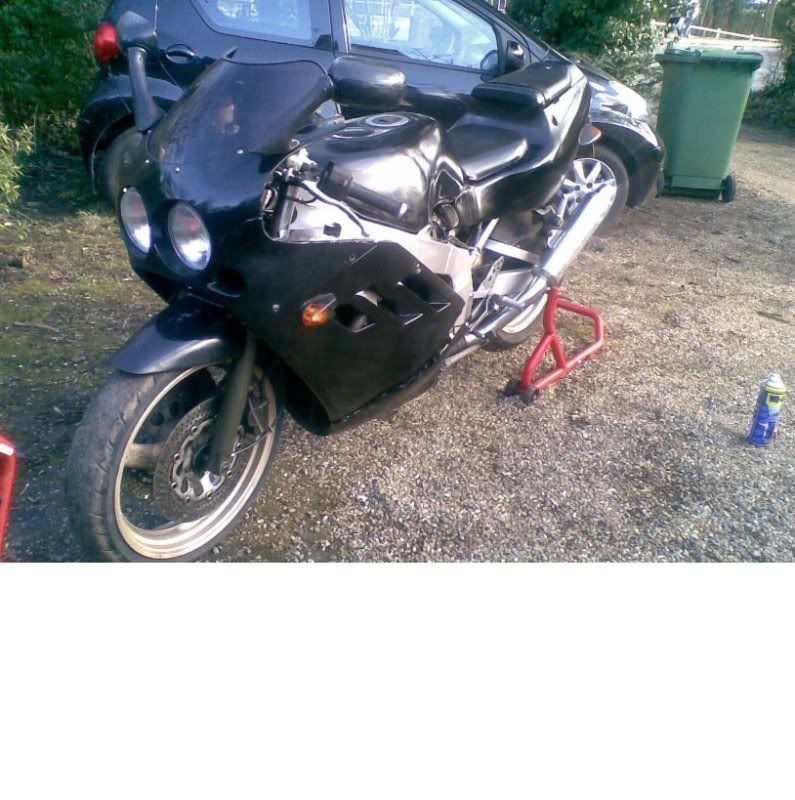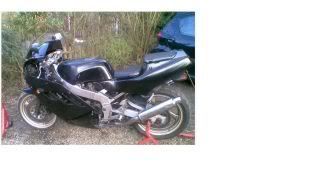 So, the conversation goes something like this.
Random Member of the Public (RMP) - "Oh my word – What a beautiful motorcycle you have there."
You – "Why thank you. I am very proud of it.
RMP – Is it fast?
You – Yes it is.
RMP – Is it reliable?
You – Yes it is.
RMP - You must have paid over £2k for that
You - No. Only £700
RMP – You are so lucky to have one as nice as that
You – Yes I am. Goodbye.
Cue proud motorcyclist riding off into the sunset accompanied by the music from the bit in Top Gun where he rides a bike into the sunset.
That, my friends, is what you could be hearing if you purchase this 1989 Suzuki GSXR 400.
Well actually you may not hear that. But you get the idea. Just imagine it. You, this bike and the open road. Sun in your face, wind in your hair and flies in your teeth.
I bought this bike for my small boy so that when he passed his test he could come out and play. Unfortunately, a combination of work, college and lack of funds for the test and training has meant his dream of riding this machine has been put on hold. So it is with deep regret that we have to reluctantly offer it to you. We have done a bit of tinkering to get it running nicely but it does still have a couple of bits that could do with a bit of work: -
• Farings do have a bit of pitting in the paint. An easy fix and actually not that noticeable. Especially as you will probably be doing about Warp 2 on this thing.
• Could do with a general clean up and polish
• No tax or MOT
• Throttle housing needs a new securing bolt.
Other than that it's great.
• Starts, runs and rides nicely
• Carbs have just been balanced and cleaned
• Original Suzuki twin exhausts with a lovely sound
• Brakes are fine as is the clutch
• All gears are functional
• All lights light and indicators indicate
• All the gauges work
• Spare front tyre included
• I will also throw in a virtually unused paddock stand.
• And a Twix – for the journey home.
As motorcycles go (and this one really goes) it has all the bits you would expect. Wheels, engine, handlebars etc. And all in the right places.
What this bike really needs is someone like you to
A. – buy it.
B. – Give it some love.
Bike is in Lowestoft – and its waiting for you!!!!
Call me on 07789 455150 or PM for more details
A little bit of work while the weather is grotty gets you an Ideal first big bike for when the sun comes out. Appreciating classic. Grab yourself a bargain.
£700 OVNO.